By its nature, our foyer is a space used by every family and visitor to our preschool. Parents, carers and siblings use the space at drop-off and pick-up and staff display notices and artwork. In redeveloping the foyer, we are considering everyone who visits the centre and how we can make it a more inviting, welcome and accommodating space.
In designing our foyer refresh we will incorporate four distinctly themed spaces representing a walk through the history of our district. We seek to create a foyer that will encourage the children (along with their parents and siblings) to explore and learn about Macleod's diverse history. The themed spaces are:
Aborigines and the Wurundjeri tribe
Farming communities
Art (Heidelberg School of Art)
Modern times
Further to the four historic spaces, the following features will also be included:
A new central Island bench will provide new cubby storage, and bench space for sign-in books, notices and other activities
Wall mounted sensory panels providing children a tactile, interactive element of the our foyer
A larger noticeboard for displaying current notices
Privacy window frosting for the staff office and new signage
Bench seating will run along two walls in the shared foyer and a new couch will be purchased for the Preschool foyer
All walls and the ceiling of the foyer will be given a fresh coat of paint.
Our project is making great progress. We have been meeting with contractor's and are hoping to be able to complete the refurbishment during the Term 3 School Holidays (depending on Council approval timing and contractor's schedules). Very exciting!
We would like to thank the Preschool community for their fundraising efforts.
Design concept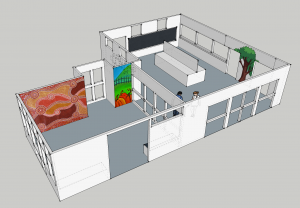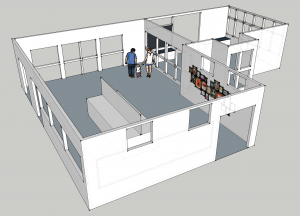 Island bench concept