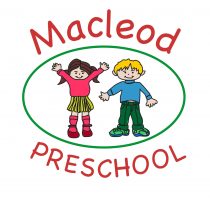 ---
OUR SETTING
Macleod Preschool is located in a beautiful setting in the heart of Macleod Village. At Macleod Preschool we provide three and four year old kindergarten programs in a safe and secure environment where children can express themselves, celebrate diversity and enjoy kindergarten. Our program offers children the opportunity to grow and develop through play – the way children learn best.
OUR EDUCATORS
All educators at Macleod Preschool have a strong sense of commitment and are passionate about Early Childhood Education, their work with children and the preschool. They are dedicated, motivated and caring and have a wide range of experience, skills and knowledge which contributes to our rich and diverse programme. All educators work collaboratively both as a teaching team and with families to provide a positive and meaningful programme. We are fortunate to have long serving educators who have established relationships and reputations with families in the community.
Our lead educators have a Diploma or Bachelor of Teaching – Early Childhood, and many years of teaching experience in early childhood services; while our co-educators hold either Certificate III or Diploma of Children's services, as well as many years of professional experience.
Macleod Preschool has been rated as Exceeding National Quality Standard. Information about the National Quality Standard.
FEES AND TIMETABLES
Macleod Preschool currently has a managed partnership with Early Childhood Management Services, ECMS. Details about our fees and timetables are available from ECMS.
OUR PHILOSOPHY
We believe ;
Respect for children, families and colleagues is paramount.
Building relationships with families is of utmost importance.
Early Childhood is a special stage of life and as Educators we aim to act in the best interests of children at all times.
In promoting the rights of children, who are capable, competent, active learners, able to confidently make choices about their learning.
Every child is part of several communities, therefore learning and development never takes place in isolation.
Every child's family, community and culture should be acknowledged in the Early Childhood setting.
In valuing diversity – of children and families, beliefs, abilities, language, interests, ethnicity, strengths, experiences.
All children have different needs, talents, qualities.
Every child/person has a valuable contribution to make.
Children learn in many different ways and we embrace a holistic approach to early childhood education.
In the provision of a safe, caring, responsive environment.
In a collaborative approach to early childhood education, working in partnership with children, families and communities.
Within our Centre we promote :
A sense of belonging, security, safety and wellbeing.
A child safe environment and teaching children self protective skills
Skills, knowledge and positive dispositions towards learning.
Respect, individuality, creativity, inclusion.
The rights of children.
Open communication between children, families and staff.
The expression of feelings in an appropriate manner.
Positive role modelling.
Friendship and social development.
Co-operation and collaboration.
Community awareness and involvement.
Healthy habits.
Environmental awareness and sustainable practices, including worm farming, water conservation, recycling, reusing, and sustainable teaching and learning practices.
Reflective practice.
Our program reflects our beliefs and values and incorporates :
Positive attitudes towards diversity and difference
The vast developmental levels of children.
The strengths and unique talents of children and staff.
The EYLF and the VEYLDF
The emerging interests of the children.
A curriculum that is individual to each group within our Centre.
A child focused approach.
Meaningful interactions and relationships with children
As Educators we embrace the values and beliefs reflected in our Philosophy which underpins our Practice. We continually strive to ensure we keep up to date with current research and embrace new ways of being and doing.

FOUR YEAR OLD CURRICULUM
Bilbies, Kangaroos & Wombats
Here at Macleod Preschool, the dedicated team of educators work closely with one another and other professionals to provide an inclusive, holistic Early Childhood Education program, focusing on supporting children's learning and development through an Emergent curriculum and play based approach.
Four year old kindergarten is so important for children as it allows for exploration of the world around them, as they learn new skills, attributes and ideas, creating meaning through investigation and inquiry based learning. Children develop these fundamental skills when they are given the opportunity and time to engage in a range of different experiences through un-interrupted periods of play.
All of the four year old groups follow an emergent curriculum, integrating exploration and play as vehicles for teaching and learning. Our families and in particular the children, have embraced this style of teaching and have contributed to our program in many ways. The children are delighted by the opportunity to share their ideas and to have a voice within the program. It gives them a wonderful sense of belonging, independence and empowerment. This style of planning requires constant observation, listening, documentation, creative thinking, flexibility, patience, respect and much humour in order to support and enhance their social, emotional, physical, cognitive and language development.
The kindergarten program reflects the children's interests, strengths and needs, whilst incorporating teacher initiated experiences and input from families and the wider community. The program is planned in conjunction with co-educators to support, enhance and encourage learning of particular interest avenues. As a four year old educator, it is highly important that children are encouraged to become independent learners, self-determining and responsive to the play choices they make. Setting children up for success by modelling, scaffolding and giving them the opportunity to make thoughtful decisions, allows children to become confident and autonomous learners who are active participants of their own learning journey.
Throughout the year the children explore many different issues, stemming from group interests to individual ideas, which educators can enhance and support learning through more explicit teaching opportunities and the use of educational incursions and excursions. As each group has different learning interests and learning ideals the incursions vary in order to support the individual group interests. Each term each group has between 2 and 3 different incursions to support learning, growth and development.
As we prepare the environment and activities we focus on the following learning areas:
Visual arts and craft
Natural Environment, Science and Math
Language and Literature
Dramatic and Imaginative
Manipulative and Construction
Music and Movement
Sensory Play
Physical Play and Fitness
THREE YEAR OLD CURRICULUM
Possums & Koalas
Starting kindergarten is an important and special milestone in your child's life. Our 3 year old program aims to nurture the children's confidence, expanding their awareness and adventure in learning. It's a time of discovery; a time for young children to investigate new surroundings, new friends and possibilities. The journey here is all about supporting each child to explore and discover the world around but also the person within.
Encouraging autonomy and independence in small tasks such as placing their bag in their locker or getting their drink bottle at snack time or washing their hands by themselves boosts their wellbeing and overall confidence.
Assisting children to develop a positive self- image and self- worth helps them:
act independently
assume responsibility
take pride in their accomplishments
tolerate frustration
attempt new tasks and challenges
handle positive and negative emotions
offer assistance to others
The group has an emphasis on exploration, inquiry learning and overall having fun, positive interactions through play based learning. Throughout these interactions we learn how to share and co-operate with each other in a happy, safe, relaxed, well-structured educational environment. As well as learning kindergarten rules, routines and fair and un-fair behaviours.
Incursions are a regular feature of the program, as well as traditional activities such as painting, storytelling, dress ups, role play, blocks, construction, crafts and much more. We encourage the children to express themselves through language, art and imaginative play. This allows each child the time, space and support to experience and develop in their own individual way while promoting learning through play, because play is children's work. This program helps develop their everyday skills as well as a wonderful transition into the 4 year old program.
HOW TO ENROL
Enrolments for our 3 year old program are submitted through the ECMS website.
Enrolments for 4 year old preschool are made through Banyule City Council. The enrolment form and more information about registration can be found at the Banyule City Council website.